Deming Chapter
about 1 year ago
About
SkillsUSA is a partnership of students, teachers and industry working together to ensure America has a skilled workforce. SkillsUSA helps each student excel.
SkillsUSA's mission is to empower its members to become world-class workers, leaders and responsible American citizens.
SkillsUSA improves the quality of America's skilled workforce through a structured program of citizenship, leadership, employability, technical and professional skills training. SkillsUSA enhances the lives and careers of students, instructors and industry representatives as they strive to be champions at work.
SkillsUSA serves more than 300,000 students and instructors annually.
The organization has 13,000 school chapters in 54 state and territorial associations.
More than 14,500 instructors and administrators are professional members of SkillsUSA.
27 days ago
DEMING HIGH SCHOOL
SkillsUSA 2016-2017 Season
2017 SKILLSUSA NEW MEXICO STATE LEADERSHIP & SKILLS CONFERENCE - ALBUQUERQUE MARCH 29TH - APRIL 1ST, 2017
DHS SkillsUSA CHAPTER CAPTURE THIRD CONSECUTIVE
NEW MEXICO STATE CHAMPIONSHIP! GO WILDCATS !
HEALTH CARE SCIENCE - CULINARY ARTS - ROBOTICS PROGRAMS SHINE @ STATE
A TOTAL OF 28 GOLD,19 SILVER.11 BRONZE MEDALS WERE WON BY THE DHS CHAPTER. ALL STUDENTS THAT ATTENDED EARNED A MEDAL.
DHS CHAPTER RECOGNIZED AS A GOLD CHAPTER OF DISTINCTION BY NATIONAL SKILLSUSA.
DR. DAN LERE-DPS SUPERINTENDENT RECEIVES A THIRD CONSECUTIVE BANNER FROM DHS SENIORS MONICA BARBA AND KARIMA ACOSTA WHILE MRS. ANDERSON LOOKS ON.
DHS STUDENTS ELECTED AS NEW MEXICO SkillsUSA STATE OFFICERS.
DHS JUNIORS MONICA MECADO, MYKA TREVIZO AND SHAWN ROBERTS WERE ELECTED BY THEIR PEERS AS OFFICERS. ROBERTS IS SERVING HIS SECOND CONSECUTIVE YEAR AS NM SkillsUSA STATE OFFICER.
NEW MEXICO COURTESY CORPS DEBUTS AT STATE
DHS ADVISOR DAVID MONJARAS, COORDINATES A STATE LEVEL COURTESY CORPS. MONJARAS SUPERVISES STUDENTS FROM FARMINGTON, GALLUP, HOBBS, LAS CRUCES, CHAPARRAL AND DEMING.
DHS CHAPTER HAS THREE STUDENTS THAT QUALIFIED FOR THE NM SkillsUSA STATE PIN DESIGN.


CANDIE JURADO ENTERS WINNING DESIGN. QUEENIE ESQUERA AND RYLAN LARKO ALSO RECOGNIZED FOR ENTRIES.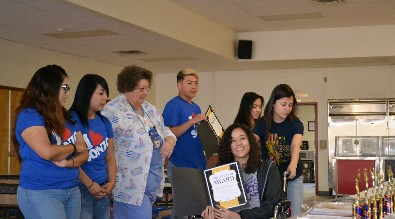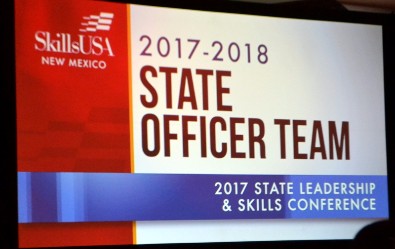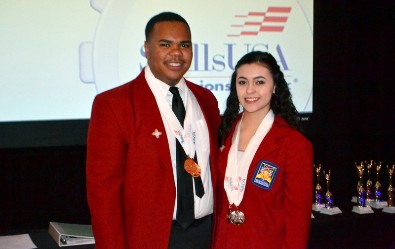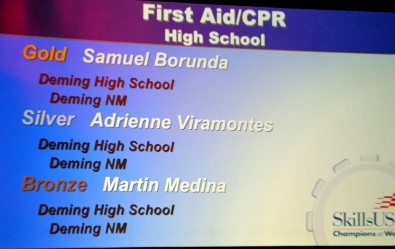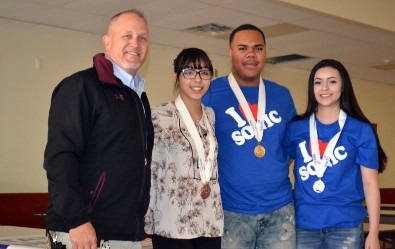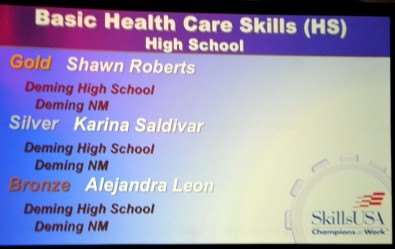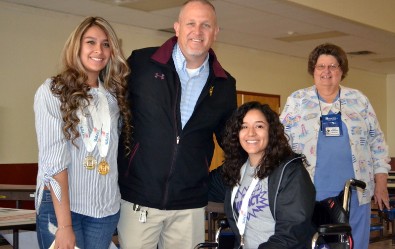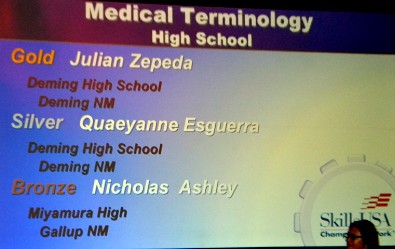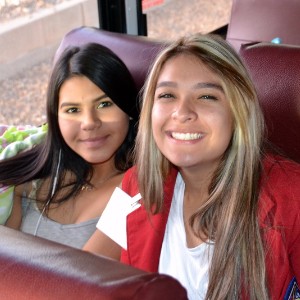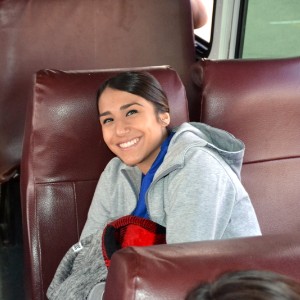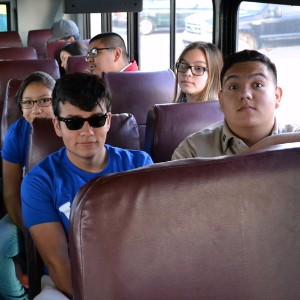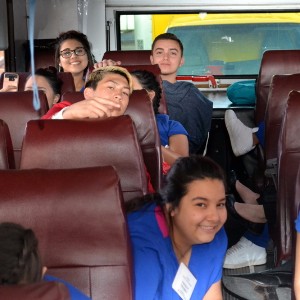 CAREER TECHNICAL EDUCATION EXPO AT DHS GYMNASIUM FEBRUARY 22, 2017
DHS HOST SITE FOR CTE EXPO - RED MOUNTAIN MIDDLE SCHOOL 8TH GRADERS AND DHS STUDENT BODY ATTEND ALL DAY EVENT
DHS HEALTH CARE SCIENCE PROGRAM DRAWS A CROWD AT EXPO
REPRESENTING SkillsUSA, STUDENTS AND STAFF DISPLAY INFORMATION ON A HEALTH CARE SCIENCE CAREER AND SkillsUSA STATE COMPETIONS AND COURTESY CORPS INFORMATION.
DPS SUPERINTENDENT ATTENDS CTE EXPO
DR. DAN LERE ATTENDED THE CTE EXPO FOR THE SECOND CONSECUTIVE YEAR. SHAWN ROBERTS (SkillsUSA NM STATE OFFICER), MARY ANDERSON (DHS SkillsUSA ADVISOR), DR. LERE (DPS SUPERINTENDENT), KARINA SALDIVAR (SkillsUSA NM STATE OFFICER), SHANE COKER (DHS ASSISTANT PRINCIPAL)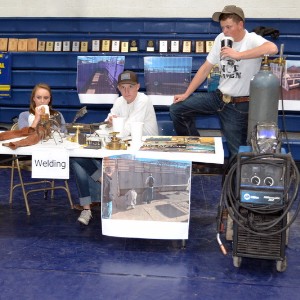 JANUARY 2017
DHS SkillsUSA STARTING THE YEAR OFF WITH HIGH EXPECTATIONS
DHS SkillsUSA TEAM VISIT THE ROUNDHOUSE IN SANTA FE
New Mexico SkillsUSA State Officer Shawn Roberts, New Mexico State Representative Candie Sweetser, New Mexico SkillsUSA State Officer Karina Saldivar, DHS SkillsUSA Advisor Mary Anderson and New Mexico SkillsUSA State Officer Julian Zepeda.
DHS SkillsUSA TEAM ADVOCATE FOR PERKINS FUNDING WITH LEGISLATORS
DHS SkillsUSA Culinary Arts members Garret Borden, Joseph Sera, Shirley Galaviz, Senator John Arthur Smith and DHS SkillsUSAAdvisor Gen Wertz.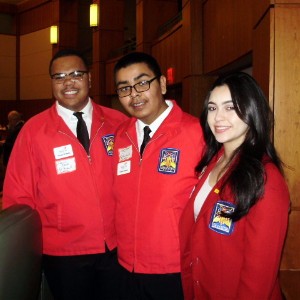 DECEMBER 2016
HALF THE SCHOOL YEAR HAS BEEN COMPLETED. DHS SKILLSUSA FAMILY LOOKS BACK AT THE YEAR AND PREPARES FOR 2017. OUR STAFF AND STUDENTS INVOLVED IN COMMUNITY AND CAMPUS LIFE.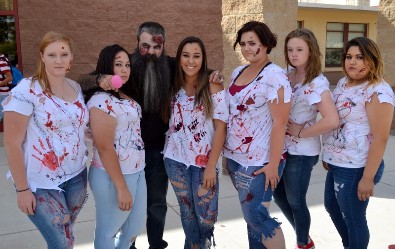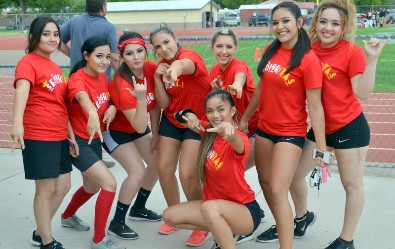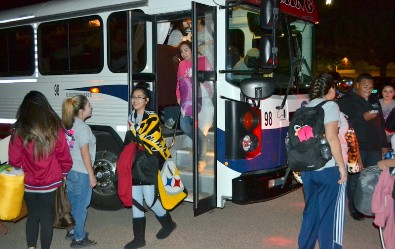 SkillsUSA NEW MEXICO
COMMUNITY OUTREACH AND LEADERSHIP CONFERENCE 2016
CARLSBAD AND LOVING - NOVEMBER 2016
HOST SITE FOR SkillsUSA
NEW MEXICO
THE BLACK RIVER LOCATION PROVIDED WORK AND ENTERTAINMENT FOR ALL PARTICIPANTS.
TEAM DHS BRINGS 46 STUDENTS TO THE PROJECTS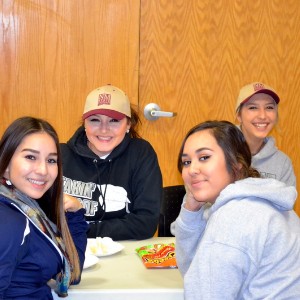 CARLSBAD MAYOR PROCLAIMS "SkillsUSA WEEKEND" AT OPENING CEREMONIES
MAYOR MATT HALL ADDRESSES SkillsUSA NEW MEXICO AT NMSU CARLSBAD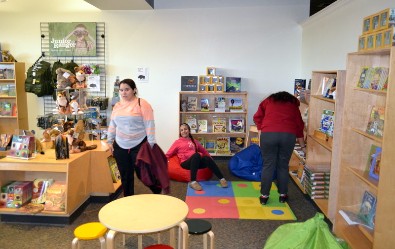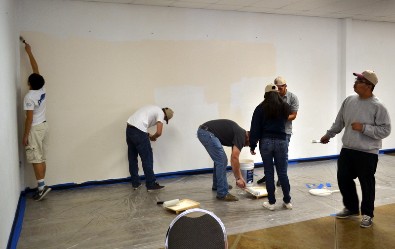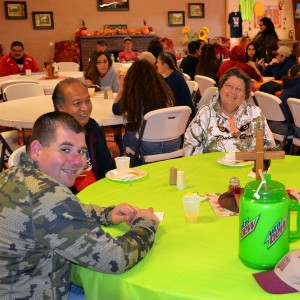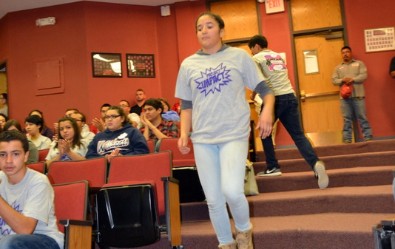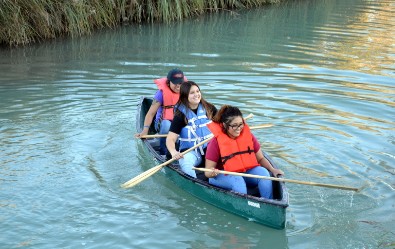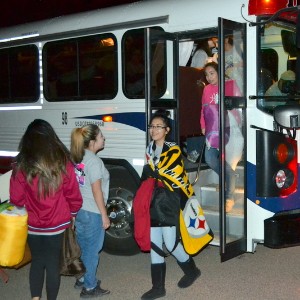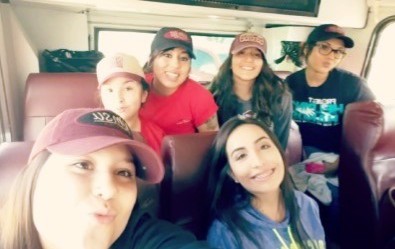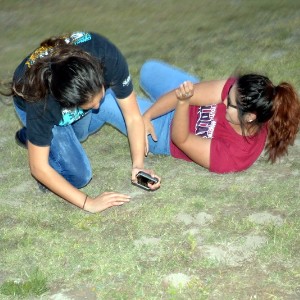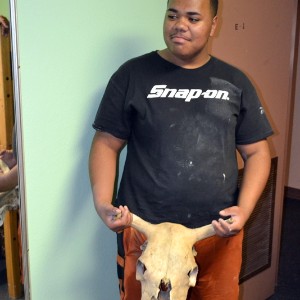 C.O.R.E TRAINING
OCTOBER 24, 2016
CHAPTER OFFICER RETREAT FOR EXCELLENCE
HOTEL ALBUQUERQUE AT OLD TOWN
"UNITY IN DIVERSITY"


BPA - DECCA - FCCLA - HOSA - SkillsUSA - TSA
CAREER TECHNICAL LEADERSHIP PROJECT
NEW MEXICO C T L P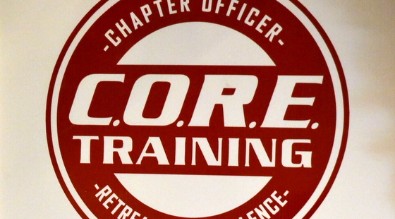 TEAM DHS
SHAWN ROBERTS
MARY ANDERSON
KARINA SALDIVAR
JULIAN ZEPEDA
SkillsUSA NEW MEXICO
STATE OFFICERS


JESSE LEVI MYLENE JULIAN KARINA SHAWN MATT MERELL JONATHON AARON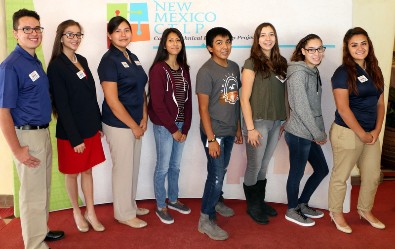 WASHINGTON LEADERSHIP TRAINING INSTITUTE - WASHINGTON D.C. 2016
DEMING HIGH SCHOOL CHAPTER MEMBERS ATTEND CONFERENCE AND TRAINING. SPONSOR DAVID MONJARAS AND STATE OFFICER SHAWN ROBERTS EXPERIENCE MEMORABLE EVENTS.
SkillsUSA EXECUTIVE DIRECTOR MR TIM LAWRENCE AND MERREL CHARLIE (NAVAJO TECH UNIVERSITY) AND SHAWN ROBERTS (DHS).
k.
SkillsUSA TEAM NEW MEXICO
STUDENTS REPRESENTING NAVAJO TECH UNIVERSITY, HOBBS HIGH SCHOOL AND DEMING HIGH SCHOOL WITH THE EXUCUTIVE DIRECTOR.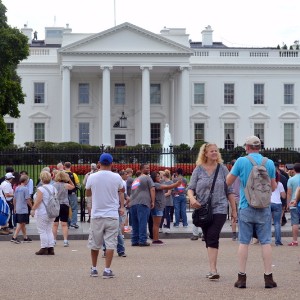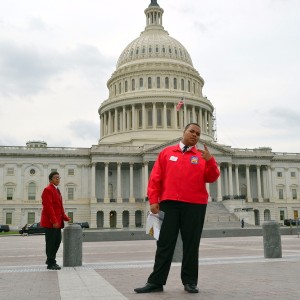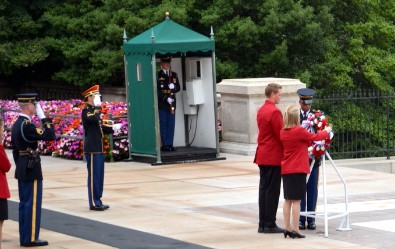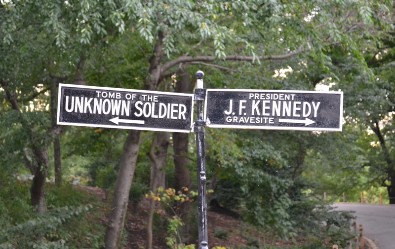 DEMING ROTARY AND DHS SKILLSUSA FORM PARTNERSHIP.
DHS CHAPTER AND DEMING ROTARY INITIATE INTERACT CLUB
SkillsUSA SONIC FAMILY NIGHT
SkillsUSA BOOSTER CLUB AND SONIC PARTNER UP FOR FUNDRAISER
SEPTEMBER 7TH, 2017
MRS. ANDERSON & MRS. MONJARAS MONITOR STUDENTS
DHS SkillsUSA students participate by displaying banners and sponsorship collections. 10% of SONIC proceeds from 5PM to 8pm benefit DHS SkillsUSA.


SkillsUSA Sponsors and students at SONIC FAMILY NIGHT!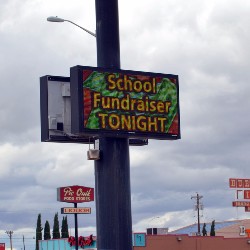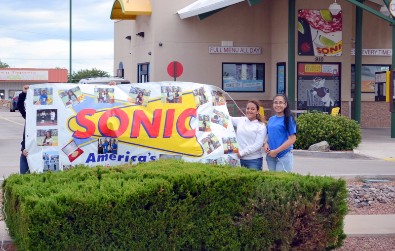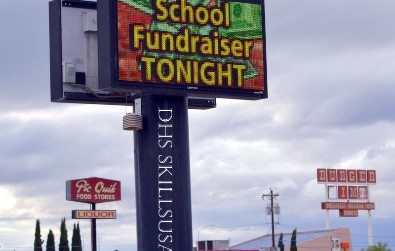 DHS RUSH WEEK - AUGUST 2016
ORGANIZATIONS AND CLUBS MEET WITH STUDENTS AT LUNCH
TO RECRUIT POSSIBLE FUTURE MEMBERS.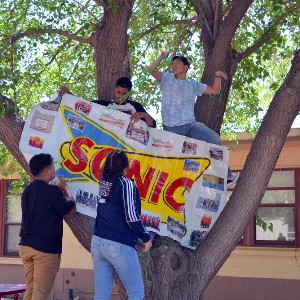 SkillsUSA Staff and students attract attention @ display.
Ms. Servicio and SkillsUSA students explain criteria for future members.
MRS. ANDERSON & MS. SERVICIO MONITOR ACTIVITY




BENNY JASSO TRAINING SKILLSUSA STUDENTS.
FIRE EXTINGUISHING COURSE


SkillsUSA Students Classroom
Students listen to prepare for real life hands on training with extinguishing fires.
DEMING HIGH SCHOOL
9TH GRADE ORIENTATION
AND CLUB EXPO-JULY 2016
DHS CLUB EXPO-JULY 28,2016
INCOMING FRESHMAN AND NEW STUDENTS ATTEND ORIENTATION NIGHT AND CLUB EXPO. CURRENT AND FORMER SKILLSUSA STUDENTS PARTICIPATE IN EXPO. SHAWN ROBERTS, CHRIS FLORES, BRIANA PEREA, KARINA SALDIVAR, RYAN MAY AND JULIAN ZEPEDA.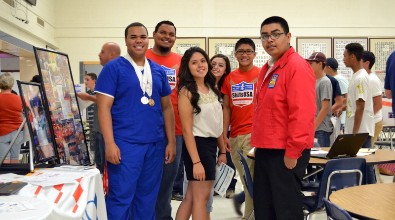 SkillsUSA DISPLAY ATTRACTS NEW STUDENTS
NEW STUDENTS LISTEN TO SKILLSUSA ALUMNI TALK ABOUT STATE AND NATIONAL COMPETITIONS.
SHAWN ROBERTS-
STATE OFFICER
SHAWN TALKS WITH AN INTERESTED NINTH GRADE STUDENT ABOUT SKILLSUSA.




CHRIS FLORES-
SKILLSUSA ALUMNI




RYAN MAY AND BRIANA PEREA-SKILLSUSA ALUMNI
NEW MEXICO CTSO
ADVISORS ACADEMY - JULY 2016








NEW MEXICO CTSO
ADVISORS ACADEMY - ALBUQUERQUE-JULY 2016
CTSO ADVISORS FROM SKILLSUSA, EDUCATORS RISING, FCCLA, DECA, HOSA, BPA, TSA ATTEND TRAINING
DHS SKILLS ADVISORS PRESENT AT ACADEMY TRAINING
MARY ANDERSON AND DAVID MONJARAS PROVIDE INFORMATION CONCERNING MEMBERSHIP, ORGANIZATION MANAGEMENT, TECHNOLOGY, CALENDAR DATES, OFFICERS, COMPETITIVE EVENTS, COURTESY CORPS, PROMOTIONS AND FUNDRAISING.
MARY ANDERSON ADRESSES NEW ADVISORS
OVERALL VIEW OF SKILLSUSA, MEMBERSHIP, ORGANIZATION MANAGEMENT, CALENDAR EVENTS DISCUSSED.
DAVID MONJARAS ADDRESSES NEW ADVISORS
NEW MEXICO COURTESY CORPS AND NATIONAL COURTESY CORPS OPTIONS DISCUSSED.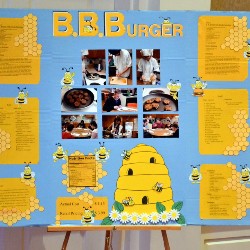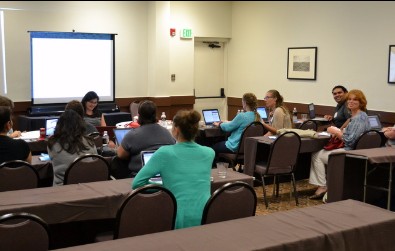 NEW MEXICO SKILLSUSA
STATE OFFICER CTLP TRAINING
EASTERN NEW MEXICO UNIVERSITY - PORTALES - APRIL 2016


SENIOR KARINA SALDIVAR AND JUNIORS SHAWN ROBERTS AND JULIAN ZEPEDA WERE ELECTED BY THIER PEERS TO STATE OFFICER POSITIONS AT STATE CONFERENCE IN APRIL 2016.
CAREER TECHNICAL LEADERSHIP PROGRAM
STATE OFFICER TRAINING FOR CTSO - SkillsUSA, FCCLA, DECA, HOSA, BPA AND TSA @ EASTERN NEW MEXICO UNIVERSITY - PORTALES
DONNA CORDER
STATE OFFICER TRAINER
Mrs. Corder is a long time state officer trainer and facilitator. She has excellent resources to share and help prepare our students for leadership roles in the state of Nerw Mexico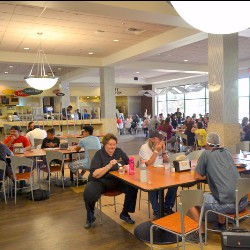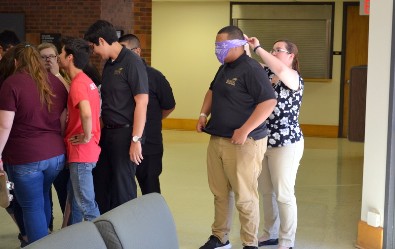 NEW MEXICO STATE OFFICERS




SkillsUSA, DECA, HOSA, BPA, FCCLA, TSA - CAREER TECHNICAL STUDENT ORGANIZATIONS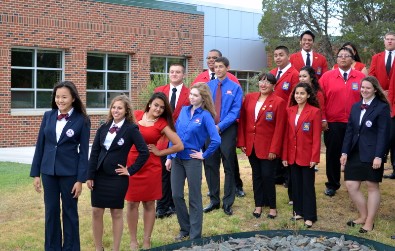 2016 Skillsusa
national leadership & skills competition - louisville, ky. JUNE 2016


DHS SkillsUSA TEAM TRAVELS TO NATIONAL CONFERENCE
SkillsUSA TEAM- MARY ANDERSON, DAVID MONJARAS, MARY MONJARAS, RIAN ARENIBAS, KASSANDRA DURAN, CHRIS FLORES, RYAN MAY, BRIANA PEREA, CRYSTAL CHAVEZ, MIRELLA LOBATO, RYLAN LARKO, SHAWN ROBERTS, JULIAN ZEPEDA, KARINA SALDIVAR, AND CANDIE JURADO TRAVEL TO LOUISVILLE.
MARY ANDERSON NOMINATED FOR NATIONAL ADVISOR OF THE YEAR.
WITH A NEW MEXICO ADVISOR OF THE YEAR AND A REGION V ADVISOR OF THE YEAR ON HER TROPHY MANTLE, MRS. ANDERSON WAS RECOGNIZED AT THE NLSC.
ANDERSON RECEIVES AWARD FOR NOMINATION
TIM LAWRENCE ACKNOWLEDGES MARY ANDERSON'S NOMINATION WITH AN AWARD..
TRAVEL BY TRAIN AND BUS
UNION STATION CHICAGO. WAITING FOR TRAIN TO CINCINATTI. ONE OF SEVERAL EXCHANGES ON OUR JOURNEY. OVER 80 HOURS ON THE TRAIN AND AN ADDITIONAL 15 HOURS BY BUS.
DEMING HIGH SCHOOL
NATIONAL COURTESY CORPS
CRYSTAL CHAVEZ, MIRELLA LOBATO, KASSANDRA DURAN, DAVID MONJARAS, BRIANA PEREA, RYAN MAY, RYLAN LARKO, CHRIS FLORES.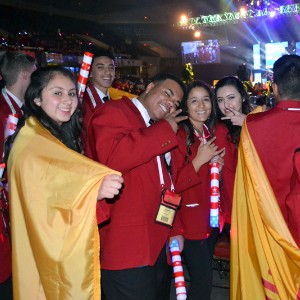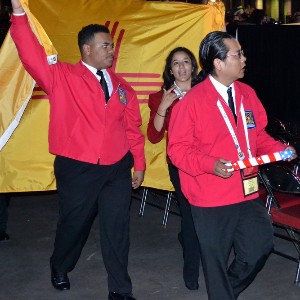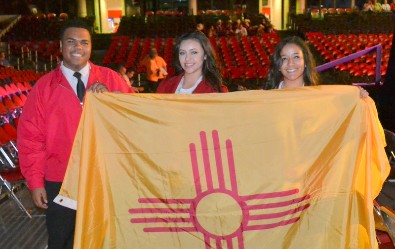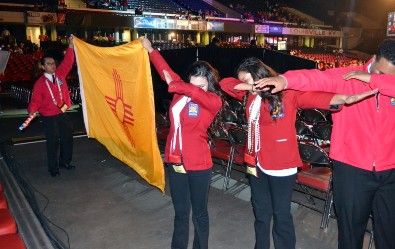 2016 NEW MEXICO LEADERSHIP & SKILLS COMPETITION
ALBUQUERQUE, NEW MEXICO
DHS SkillsUSA TEAM CAPTURES SECOND CONSECUTIVE STATE CHAMPIONSHIP TITLE - 2016


Deming High School SkillsUSA attend New Mexico Leadership & Skills Competitions in Albuquerque - April 6 - 9.
DHS SkillsUSA TEAM BRING HOME GOLD, SILVER & BRONZE MEDALS
Medals were won in the Health Care, Robotics and Culinary Arts categories.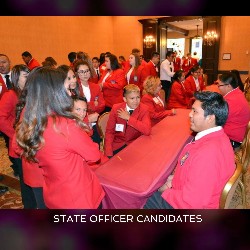 DHS SkillsUsa program
CTSO LEGISLATION DAY AT THE ROUNDHOUSE
SANTA FE - JANUARY 24-25, 2016
DHS SKILLSUSA TEAM @ CAPITOL ROTUNDA
MONIC JIMENEZ, LESLEY DOMINGUEZ, BRIANA PEREA, MANNY CHACON, GABRIELLE McBRIDE, KASSANDRA DURAN, KARINA SALDIVAR, ELAINA HOLGUIN, DAVID MONJARAS, MARY ANDERSON, RYLAN LARKO, CANDIE JURADO, SHAWN ROBERTS, MONICA MERCADO, DENISE LOPEZ, CHRISTIAN FLORES, SAM BORUNDA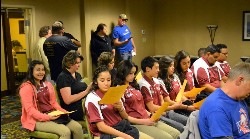 SENATOR JOHN ARTHUR SMITH
WITH SAM BORUNDA, SHAWN ROBERTS, DEMISE LOPEZ AND MONIC JIMENEZ
NM SECRETARY OF EDUCATION HANNA SKANDERA
WITH MARY MONJARAS AND RYLAN LARKO, KASSANDRA DURAN, ELAINA HOLGUIN, MONIC JIMENEZ, BRIANNA PEREA, SAM BORUNDA, DENISE LOPEZ AND SHAWN ROBERTS
US REPRESENTATIVE
DONA IRWIN
WITH LESLYE DOMINGUEZ, MONICA MERCADO, KARINA SALDIVAR, CHRISTIAN FLORES, CANDIE JURADO, MANNY CHACON, GABRIELLE McBRIDE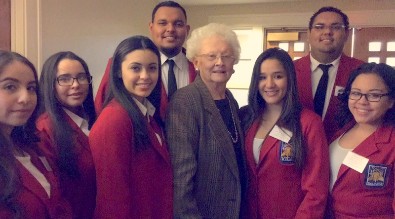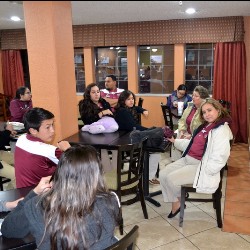 DHS SKILLSUSA PROGRAM
COMMUNITY OUTREACH & LEADERSHIP CONFERENCE
GALLUP, NEW MEXICO OCTOBER 31-NOVEMBER 1
PROJECT "HELPING HANDS"
UNM GALLUP CAMPUS
CARLSBAD HS, DEMING HS, HIGHLAND HS, HOBBS HS, GRANTS HS, LOVING HS, UNIVERSITY HS, WEST MESA HS, CENTRAL NM COMMUNITY COLLEGE, NAVAJO TECHNICAL UNIVERSITY, UNM-GALLUP CTE, PARTICIPANTS POSE FOR GROUP PICTURE.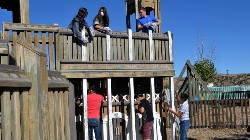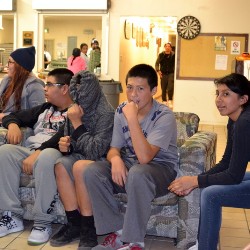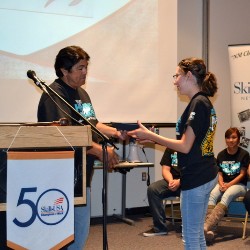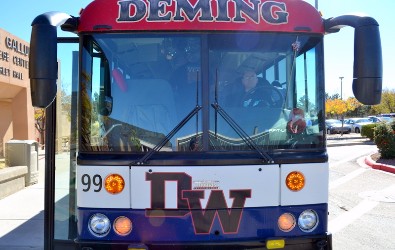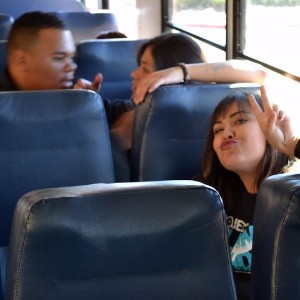 DEMING HIGH SCHOOL Skillsusa PROGRAM
C.O.R.E. Training - October 26, 2015
CHAPTER OFFICER RETREAT FOR EXCELLENCE - ALBUQUERQUE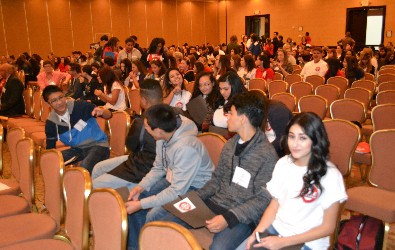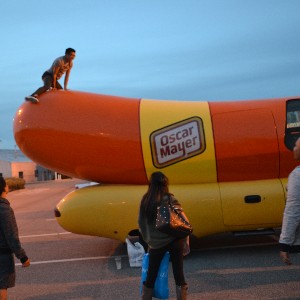 DHS SKILLUSA TEAM
RYAN LARKO
MONIC JIMENEZ
MARIA LIZ CORCHADO
ABIGAIL DIAZ
KASSANDRA DOMINGUEZ
RYLAN LARKO
MAGALY LOPEZ
SOPHIA MONTELLANO
JONATHON PACHECO
SHAWN ROBERTS
MARY ANDERSON
DAVID MONJARAS
DEMING HIGH SCHOOL SkillsUSA PROGRAM
FIRE PREVENTION SAFETY TRAINING - OCTOBER 2015
WITH DPS SAFETY DIRECTOR/DEMING MAYOR BENNY JASSO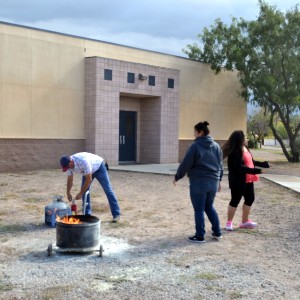 DEMING HIGH SCHOOL
skillsUSA PROGRAM
2015-2016 SOUTHWESTERN NEW MEXICO FAIR PARADE PREPERATION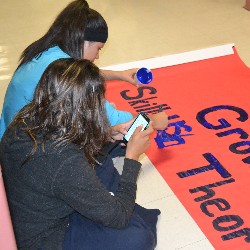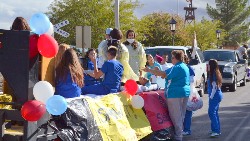 DEMING HIGH SCHOOL SKILLSUSA PROGRAM EARNS PRESIDENTS AWARD FOR BEST FLOAT IN THE SOUTHWESTERN NEW MEXICO STATE FAIR
.
DEMING HIGH SCHOOL
SkillsUSA PROGRAM 2014-2015
DHS TEAM AT SkillsUSA NATIONAL CONFERENCE
LOUISVILLE, KENTUCKY - JUNE 2015