Our purpose is to achieve immediate, sustained and dramatic change. We will foster collaboration, align the instruction and create a culture of learning at the highest levels. We will provide support that develops instructional leaders who impact our students, district and community through high expectations and rigorous instruction that increases the success of ALL students.
Parents calling in to report a student absence should call the attendance office at 546-2678 ext. 2602, at any time 24 hours a day. A phone call should be received each day that a student is absent and a letter should be sent when the student returns, which should indicate the dates of absences to the attendance office for record-keeping purposes. The absence will be termed unexcused if this process is not followed. Thank you for your assistance in our record-keeping process.
IMPORTANT SAFETY UPDATES, District News, and Information
Bataan Elementary School's Veterans Day Program
Bataan Elementary School hosted veterans, first responders, and family members during their annual Veterans Day Program on Friday, November 11, 2022.  The 5th grade team organized the program, and the 5th grade students led the entire program including the welcome, introductions, and closing.
The Deming High School JROTC presented the colors and Mrs. Au, Bataan's Music Teacher, sang the National Anthem to open the program.  The event was full of performances from students to honor our veterans, Mayor Benny Jasso read the Veterans Day Proclamation passed by the City of Deming, and Jay Block was the keynote speaker.  A slide show was shown that honored the veterans and first responders who attended the program as well as veteran and first responder relatives of students, former students, and staff.  The program concluded with a catered meal from Si Senor.
Adriana Huff created a video of the program to share with our veterans and community.  The video link ishttps://youtu.be/MAjhufl1hHMand available on the Deming Public Schools website atwww.demingps.org.
---
PSA: Warning Live Streaming Internet Scamming
The New Mexico Activities Association wants to warn the public about a growing trend in internet scamming. There are hundreds of Facebook, Twitter, and YouTube events being promoted, sometimes within prominent online groups, that appear to be real live streams, but are phishing for your personal information, and sometimes trying to install malware on your device.
These posts appear to be legitimately scheduled live streams and be associated with a high school or state association. However, when you click on the link, you are typically asked to enter personal information in order to gain access to the video. These are fake. Do not enter any information.
The NFHS Network is the official video streaming platform of the NMAA. Many of our member schools are utilizing this platform for their own broadcasting needs. However, during the regular season, many schools have decided to use other entities to do their live streaming. Please check with your local high school athletic department for the correct location to watch your favorite team safely. Cats Network is the only live streaming platform used for Deming High School home events.
When on social media, the NMAA maintains a single official account on Twitter, Facebook, Instagram, and other platforms. The official account for each platform is: @_NMAA for Twitter, AllThingsNMAA on Instagram, and New Mexico Activities Association on Facebook. Some scammers use the NMAA or NFHS logos and other marks to try and deceive you, but there is only one official account for each platform controlled by the NMAA and no sport-specific accounts will be created or used to promote our events.
To protect yourself and your fans from these fake accounts, please verify you are only sharing/posting/retweeting information from our official accounts. The links in our posts AND the link on our profile/bio will ONLY link to the NFHS. If you come across a fake account, please report it by following the platform-specific instructions below.
For Twitter:
1.Open the profile you'd like to report.
2.Select the three dot icon
3.Select Report and then select the type of issue you'd like to report.
For Facebook:
1.Go to the impersonating profile or Page
2.Click the three dot icon below the cover photo.
3.If you're reporting a Page, select Find Support or Report Page. If you're reporting a profile, select Find Support or Report Profile.
4.Follow the on-screen instructions for impersonation to file a report.
For Instagram:
1.Go to the impersonating profile
2.Click the three dot icon to the right of the page and select Report
3.SelectReport Account and follow the on-screen directions to file a report.
We appreciate your support and patience as we continue to take aggressive steps to protect our community from scammers.
---
PSA: Announcement from Special Education Department
Deming Public Schools offers evaluations to parents who have concerns about their children's developmental, academic, or behavioral  progress for children ages 3 to 21. Children who reside in Deming, Columbus, and Luna County may be referred for testing and consideration for Special Education Services. This includes children who are: homeless, homeschooled, wards of the state, children placed in facilities, or children in private and public schools. If you feel your child might be a child with a disability and in need of services, please contact the Deming Public Schools Special Education Department at 575-546-0427.
---
PSA: Announcement from Athletic and Activities Department
For the safety of our community and our fans, no backpacks or oversized bags will be permitted at any Deming Public School Athletic Events. Purses of reasonable size will be allowed. Anyone with a backpack or oversized bag will be asked to return the bag to their vehicle.
Tickets for all events held at any Deming Public School Facility are only sold digitally through GoFan.co, no cash will be accepted for entrance. Tickets can be purchased by searching Deming High School or Red Mountain Middle School on the GoFan.co website. We highly recommend purchasing tickets before arriving at any event.
QR codes will be available at the entrance of all venues, for fans who have not purchased tickets prior to an event. Once arriving, tickets will be shown and redeemed by event staff at the door. Please do not redeem tickets prior to arriving. If a ticket is redeemed prior to arrival, the ticket is no longer valid, and a new ticket must be purchased.
No outside food or drink will be allowed in the gym. Concession stands will be open for spectators at Deming High School and Red Mountain Middle School.  For questions, please contact Deming High School Athletic Department at (575) 546-8126.
---
Substitutes: We Need You!
Deming Public Schools is hiring substitute teachers. "Substitutes are critical to our schools and ensure student learning can continue." said Superintendent, Vicki Chávez "Come share your knowledge and invest in our kids!"
To apply please visit www.demingps.org and click on "Join Our Team!".
---
Safety updates and important messages and/or district information will be displayed here. Please check often.
Wildcat Activities 
10 days ago
There are many active clubs, organizations and activities at
Deming High School. Find one that interests you and get involved!
join the dhs mesa team!



Please see Mr. Belen in Room 116 or Mr. Valdes in Room 724
join the dhs rocketry team!



Please see Mr. Belen in Room 116

join science olympiad!



Please see Mr. Belen in Room 116 or Mr. Valdes in Room 724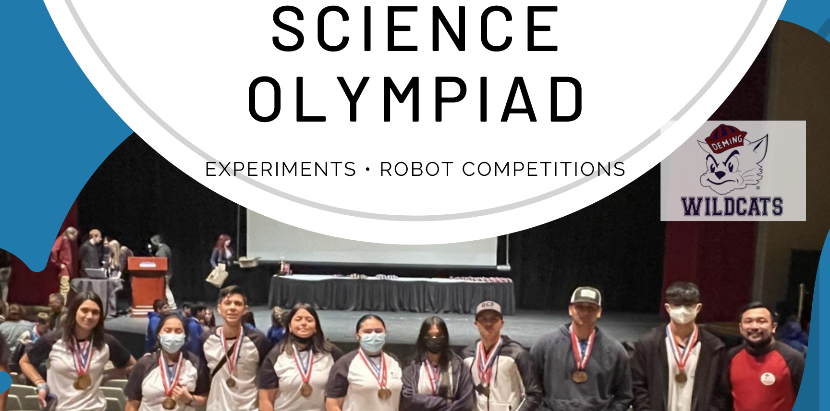 Join FFA!



FFA is a youth organization that focuses on Leadership, Agricultural and Speaking skills. You do not have to be part of the agricultural world in order to join. The only requirement is that you must be enrolled in an Agricultural or Welding class in order to be a member.

If you have any questions, please contact Mr. Polk at austinpolk@demingps.org
or visit him in Room 602.

join an after school program!

Take a look at all of the programs available! See Mr. Castaneda in room 719 for more information.
National Hispanic Awareness Month!


InformationNation! in partnership with the Foreign Language Department presents an evening honoring National Hispanic Awareness Month!
Monday, September 26, 2022
5:00 to 7:00 pm
InformationNation! Deming High School
Corazon de Luna Folclorico Dancers will be performing.
Appetizers provided by the International Cuisine After School Program!!!

Come join our students as they guide us through the wonders of Hispanic Culture through personal projects and presentations!!!
Deming High School Wildcat Fight Song By Nacio Herb Brown
Fight'em Wild Cats Fight'em Wild Cats For your Blue and Red Rah! Rah! Rah!
Fight'em Wild Cats Fight' em Wild Cats Till your way ahead Rah! Rah! Rah!
Show'em your stuff gang Treat'em Rough Show'em your stuff gang Let's get Tough!
So, Fight'em Wild Cats Fight'em Wild Cats For your Blue and Red Rah! Rah! Rah!
Deming High School Alma Mater
By Nacio Herb Brown
For the sake of Deming High School We will pledge our hearts anew. Loyal sons and loyal daughters Here we pledge our hearts to you. We will carry on the banner With the sword and with the pen. For the sake of Deming High School Here we pledge our hearts again. Music by: Nacio Herb Brown Lyric by: Arthur Freed
@Copyright 1934 Metro-Goldwyn-Mayer Corp., New York, N.Y.
Sorry, but there was nothing found. Please try different filters.